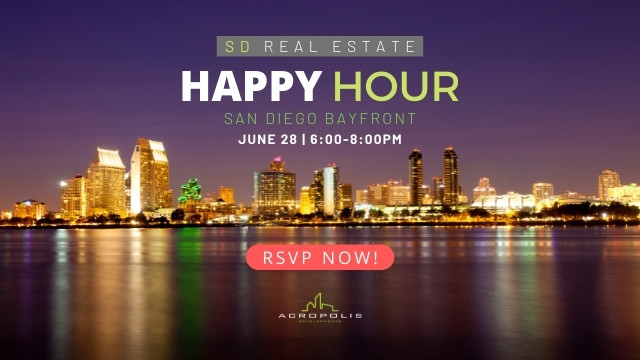 Join Acropolis and fellow real estate professionals for San Diego's most fun Real Estate networking event series! Enjoy free food and beverages, great networking, and better views. See below for our special event promo!
(in case you needed another excuse to RSVP)
Special Event Promo: Padres Raffle!
Enter our raffle for a chance to win 2 club seat padres tickets!!
Here's what you need to win:
Follow us on Instagram and/or Facebook (we will verify at event)
Provide a business card for our team to draw from
Be sure to be present at the venue when we announce to claim your prize!
We will be gathering 'Layover' on the 4th floor rooftop of the Intercontinental hotel in the heart of downtown San Diego. We loved this venue for its views, drinks, appetizers and amazing views overlooking the San Diego bay.
Drinks and food will be on us. Come network and kick off the 4th of July weekend!
The venue has its own parking garage. Parking validation will be provided to the first 20 guests to arrive. Unfortunately we will not be able to validate parking for everyone. We hope a few free drinks and bites should offset the costs 🙂
Feel free to email matt@acropolisdev.com if you have any other questions on the matter
This is an outdoor event. Heaters are available to satisfy potentially cold weather as well as any COVID concerns. As of now, the Governor's indoor mask mandate is set to expire before the event date. In the event state compliance changes, we will be sure to keep all attendees updated via email. For any other questions, please feel free to reach out to matt@acropolisdev.com.
A special thank you to our lovely real estate colleagues and event sponsors! Their support is invaluable to helping us continue to deliver San Diego's biggest and best real estate networking event series year round!
Learn more about our sponsors and their services!
HomeGuard Home Warranty
San Diego Escrow Company
Nick Maglio of Cross Country Mortgage

About Acropolis Developments
We founded Acropolis as three college athletes from San Diego State. Over the past 13 years, we continue to pursue one critical mission: Do our best to make real estate work better for everyone. Our work gives homeowners another option for selling their homes which drives up the average return they make on their homes. At the other end, our passion for design continues to drive further value to the San Diego real estate market and communities alike.